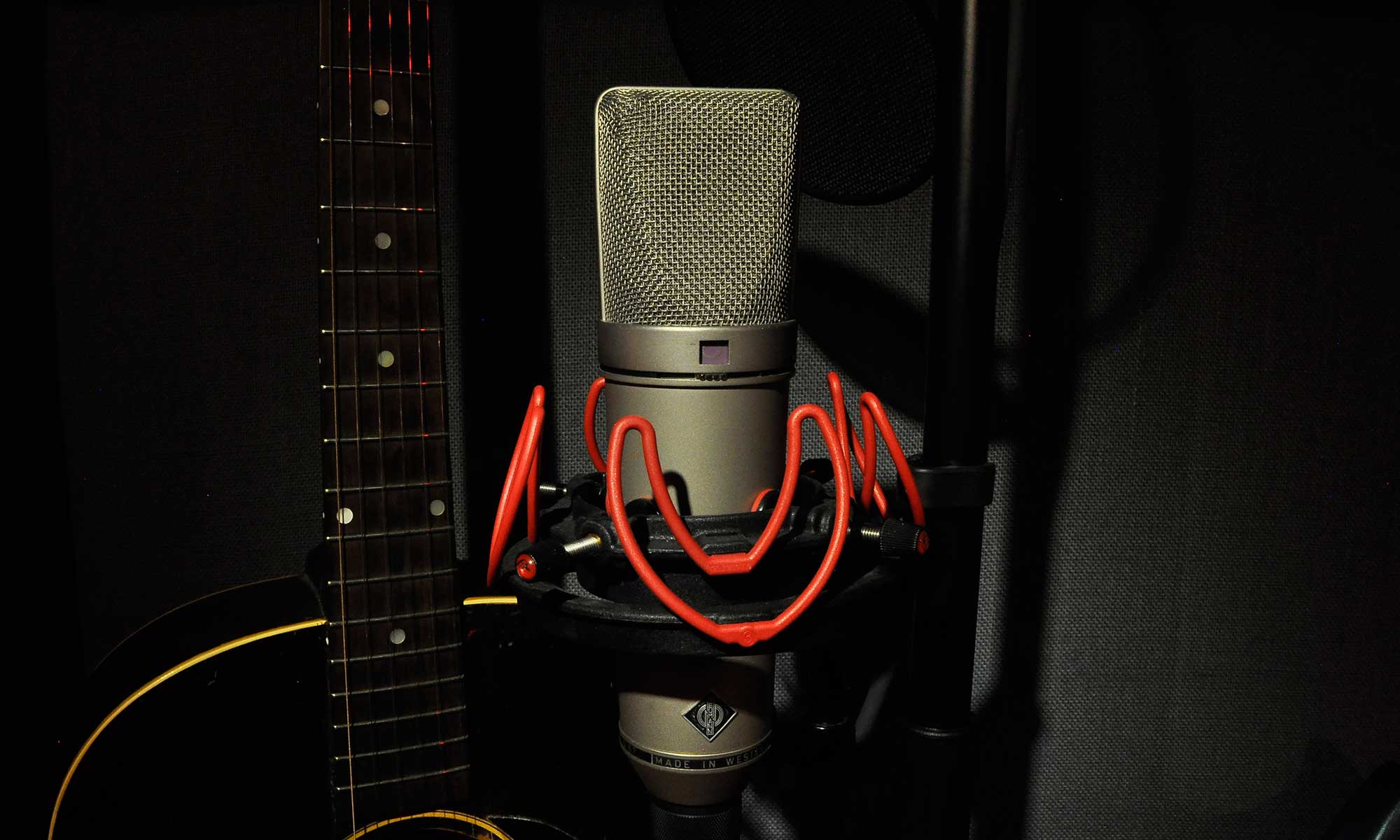 I have built two studios for my personal use over the past few years.  One is a smaller studio in Devon; the other is a large facility in southwest France.  Each has its own personality and strengths.  I have worked to make each one a space that fosters creativity, with a smooth workflow, excellent microphones and outboard gear, superb acoustics and very high standards for recorded sound.
My main recording platform is Pro Tools 2020, although I also work in Logic.  An equipment list follows at the end.
The names for these two studios came by chance; I've always loved old signs and lettering – my grandfather was a sign painter – and I bought two lots of old sign letters from ebay in France.  "Mineur" and "Ace" were the two words that used the most letters from each batch, and so the studios were named.  "Mineur" in French can mean minor, as in a key; or miner, as in someone who works underground.
MINEUR
Mineur is built in an old dairy barn in southwest France.  It has very high ceilings and a beautiful, but controlled, natural reverb.  After years of working on both sides of the studio glass, I wanted to do away with the traditional control room/recording room division, so this is a "one-room" design – I sit with the musicians.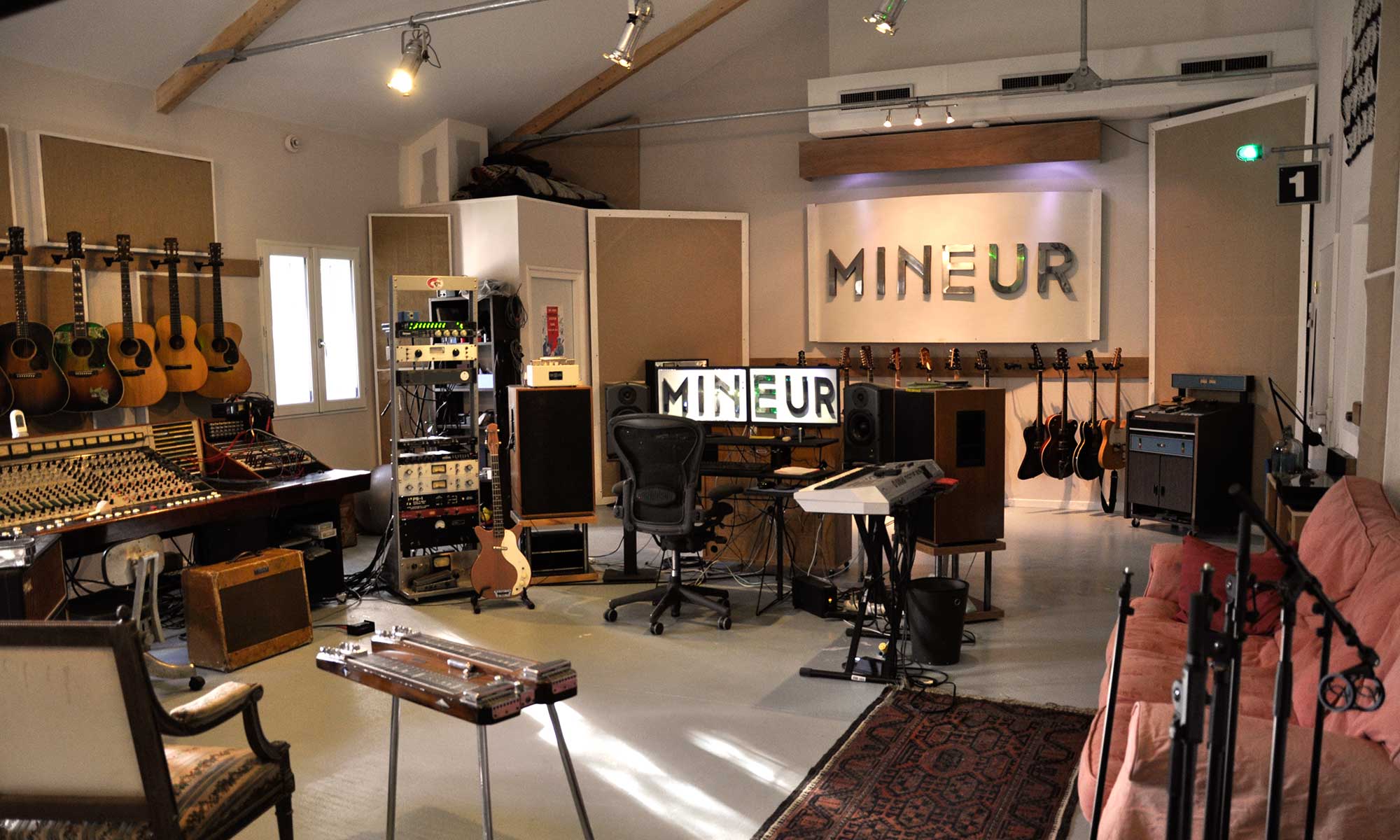 The studio is set in a breathtakingly beautiful area of rural France.  It is supernaturally quiet, and you are in the middle of nature when you step out the door.  It offers a uniquely relaxing, but very focused, environment in which to make music.  There is an apartment attached to the studio which can sleep up to four people.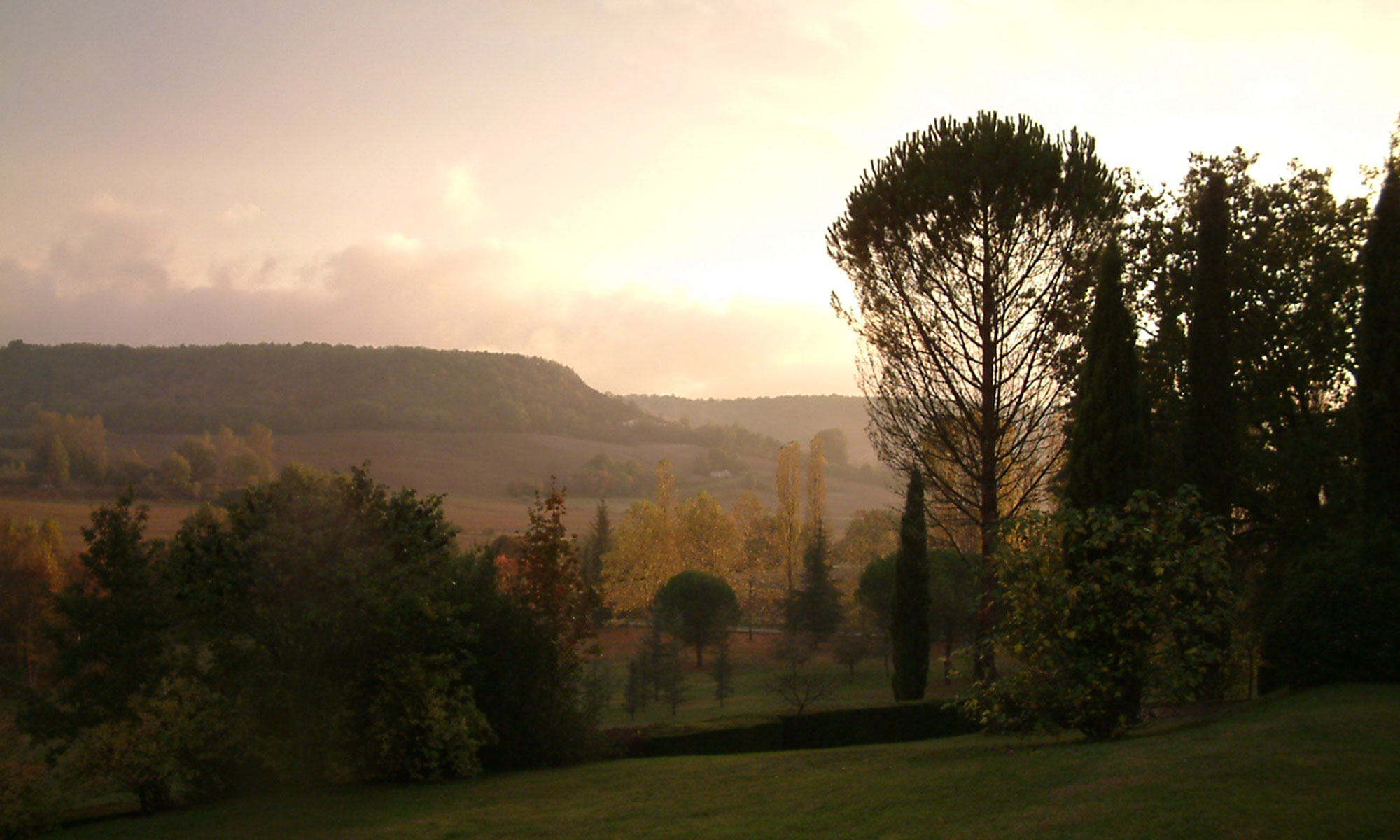 A 1967 Ludwig kit gives drummers something to do.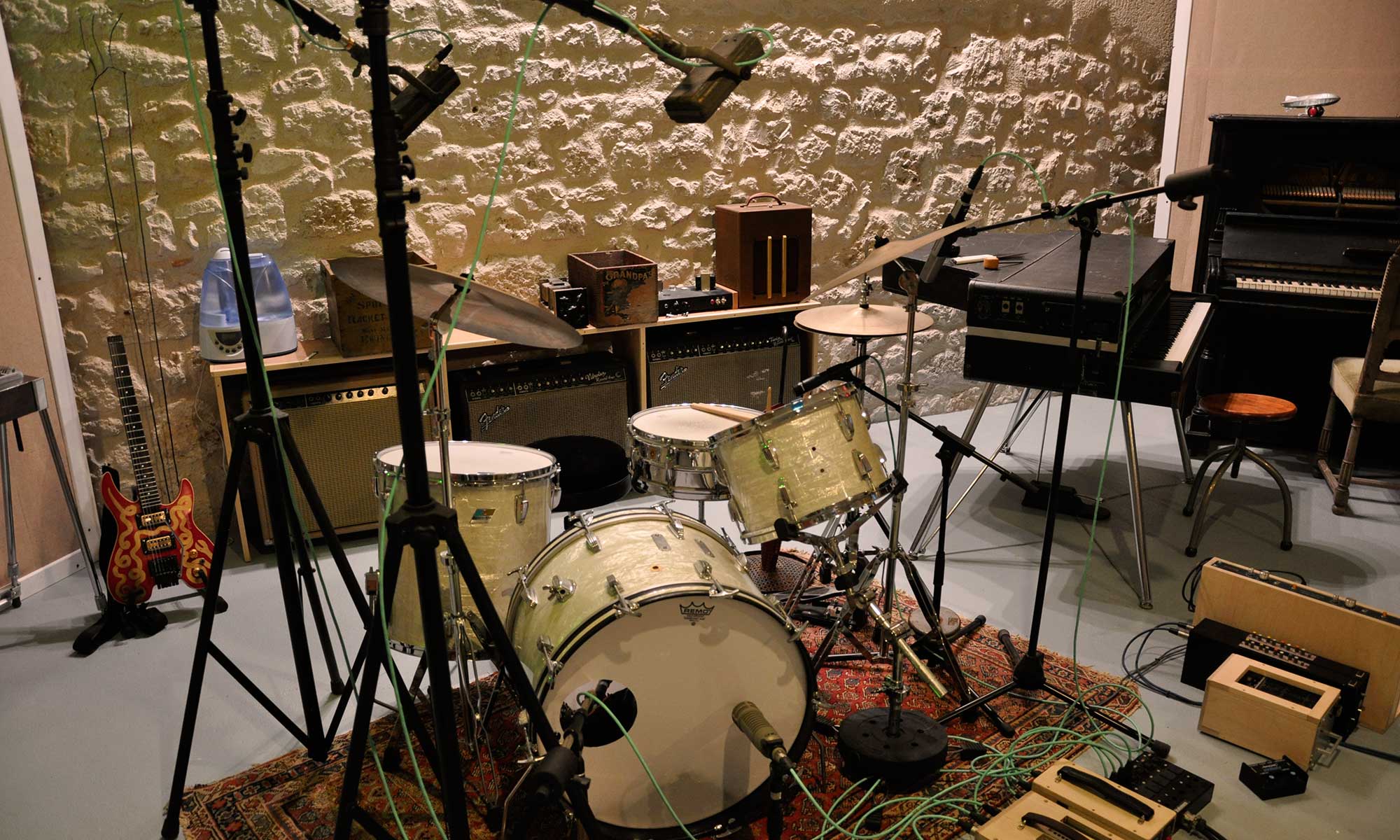 Mineur also has a completely acoustically-isolated room for instances where isolation is a good thing – like when you want to make a lot of noise.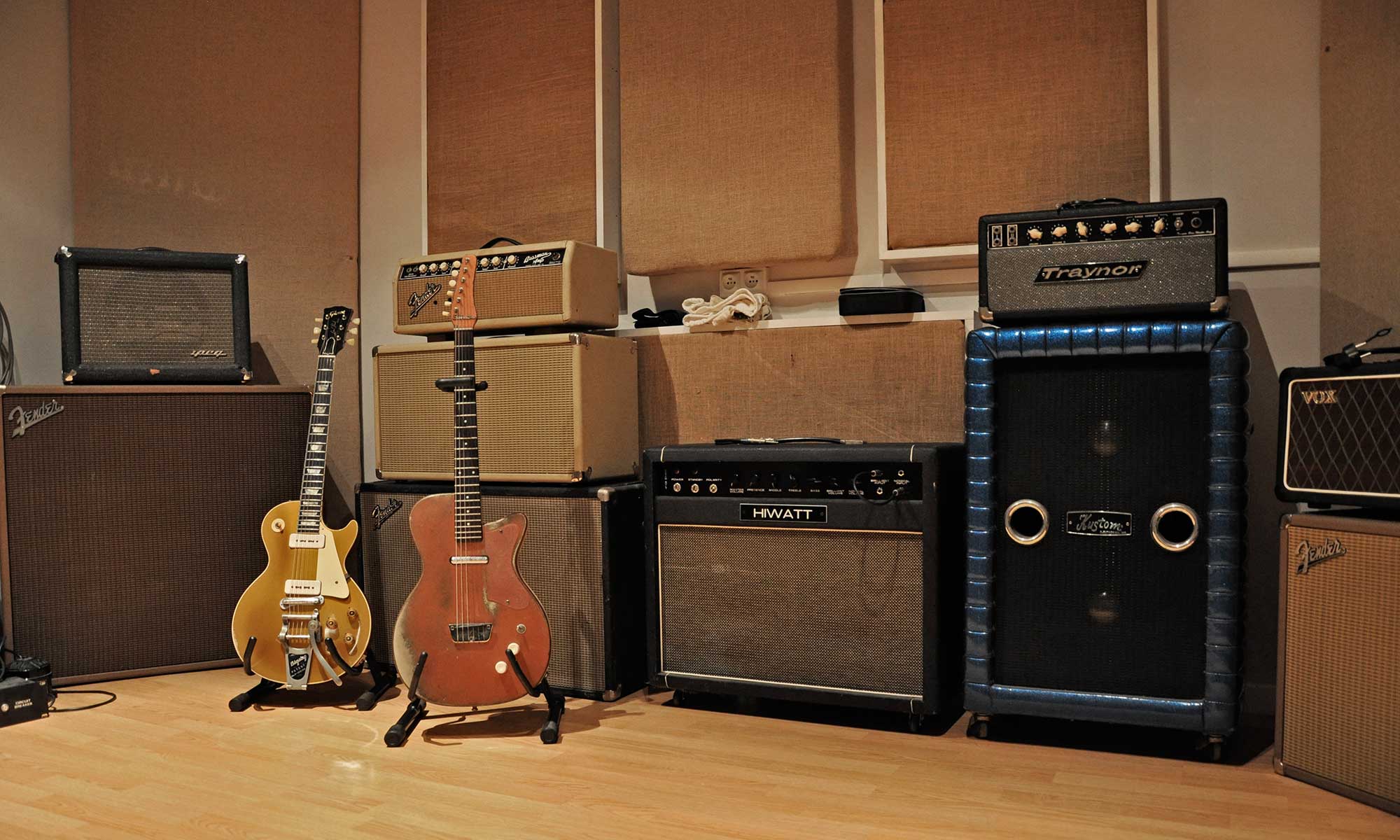 Over the years, I have accumulated a lot of vintage guitars, both acoustic and electric, as well as amplifiers.  They're a lot of fun, offer a variety of sounds, and can provide an unexpected source of inspiration for a part or a song.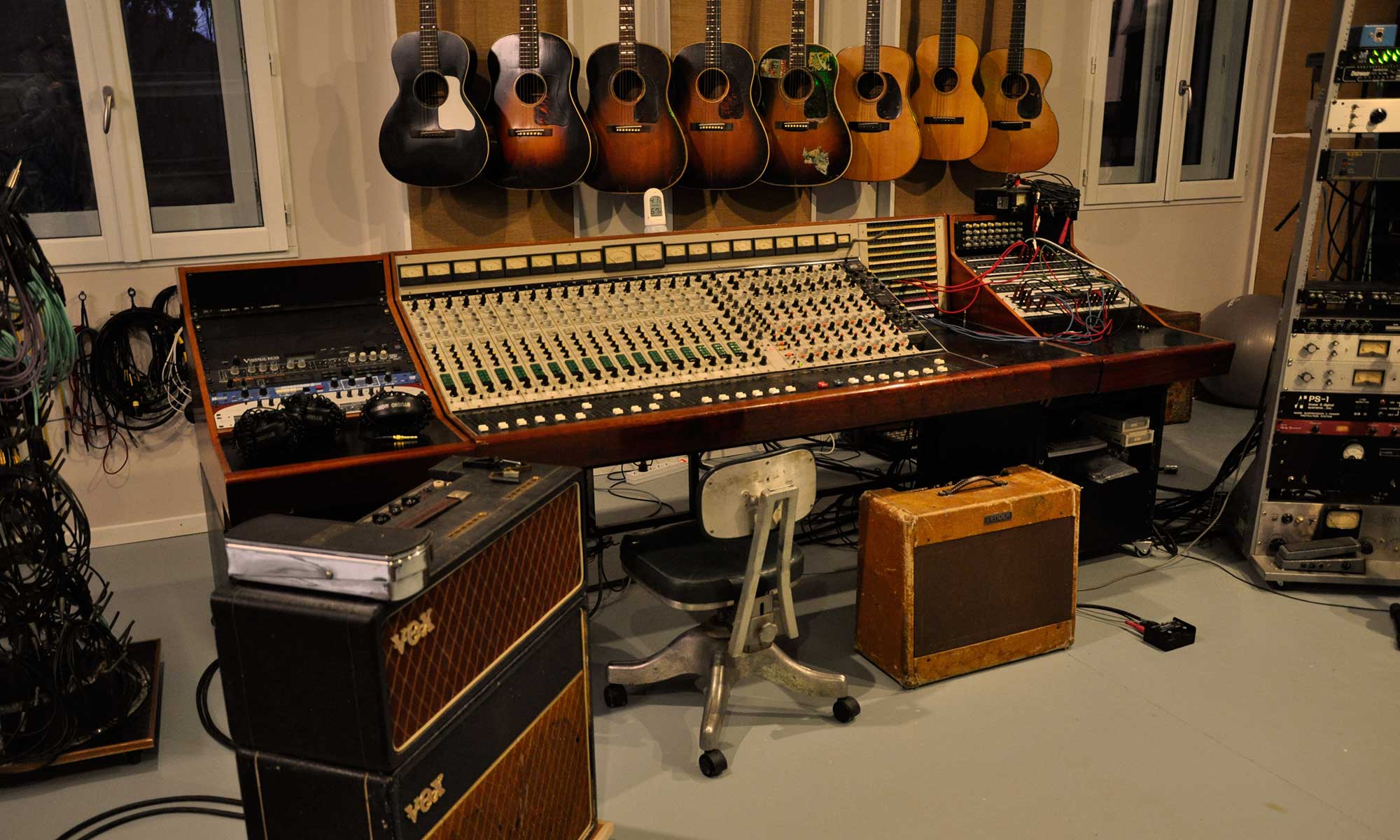 Mineur also features a 1970's Raindirk Series III console.  It can be used old-school, for tracking and mixing, or integrated into the Pro Tools system at various stages to capture that analog "something".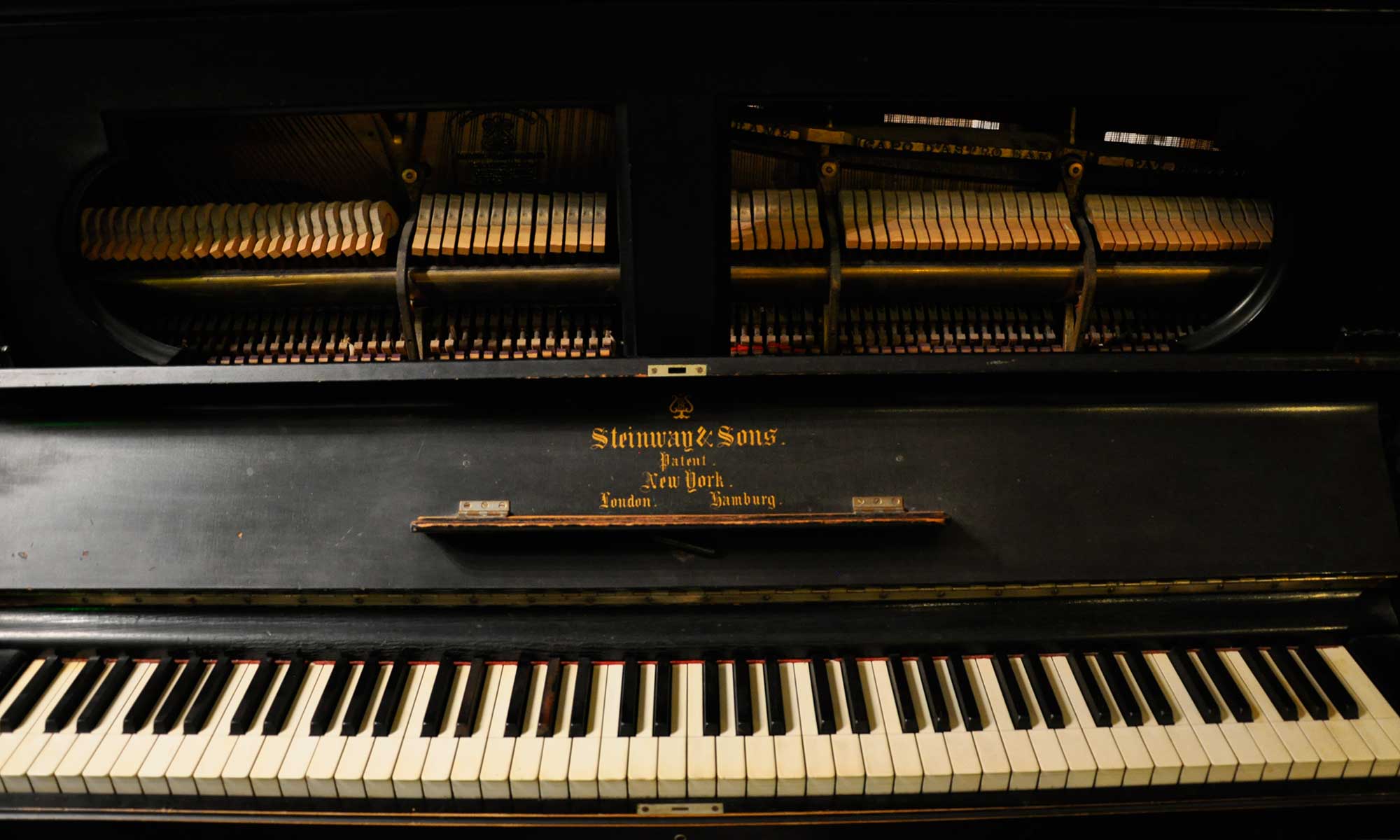 This old Steinway upright is full of character.
ACE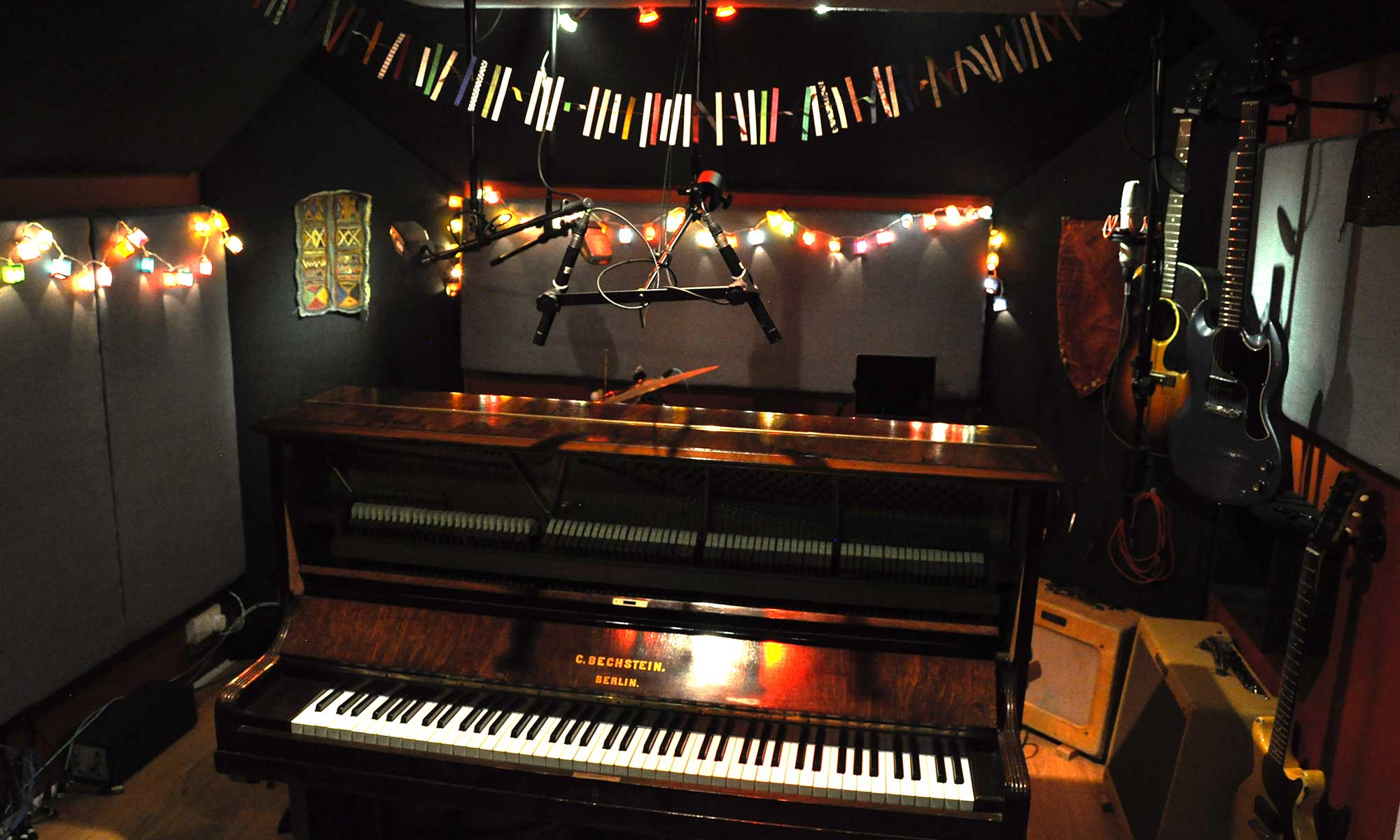 ACE is a small space I built in our garage in Devon.  It's very much like the control room of a submarine – almost every square inch is functional.  It's a great environment for singer-songwriters or small groups, and provides a handy workshop for all sorts of overdubs.  However, full albums can be done here as well – the room is acoustically treated and sounds very good.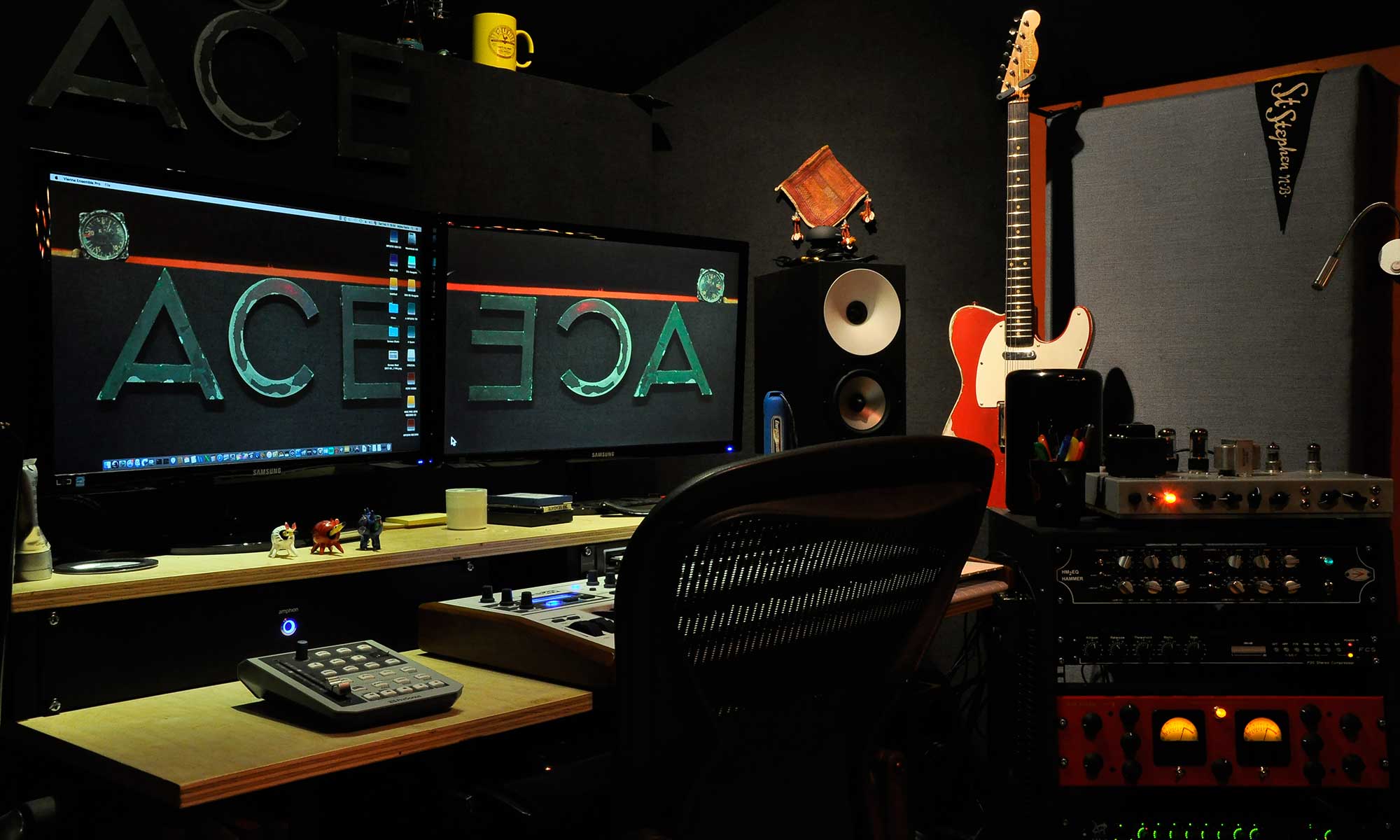 As with Mineur, ACE is located in a beautiful rural area, near the sea, with a host of interesting things to see and do when not recording.  There are many pubs and B&B's in the area.  The studio does not offer accommodation.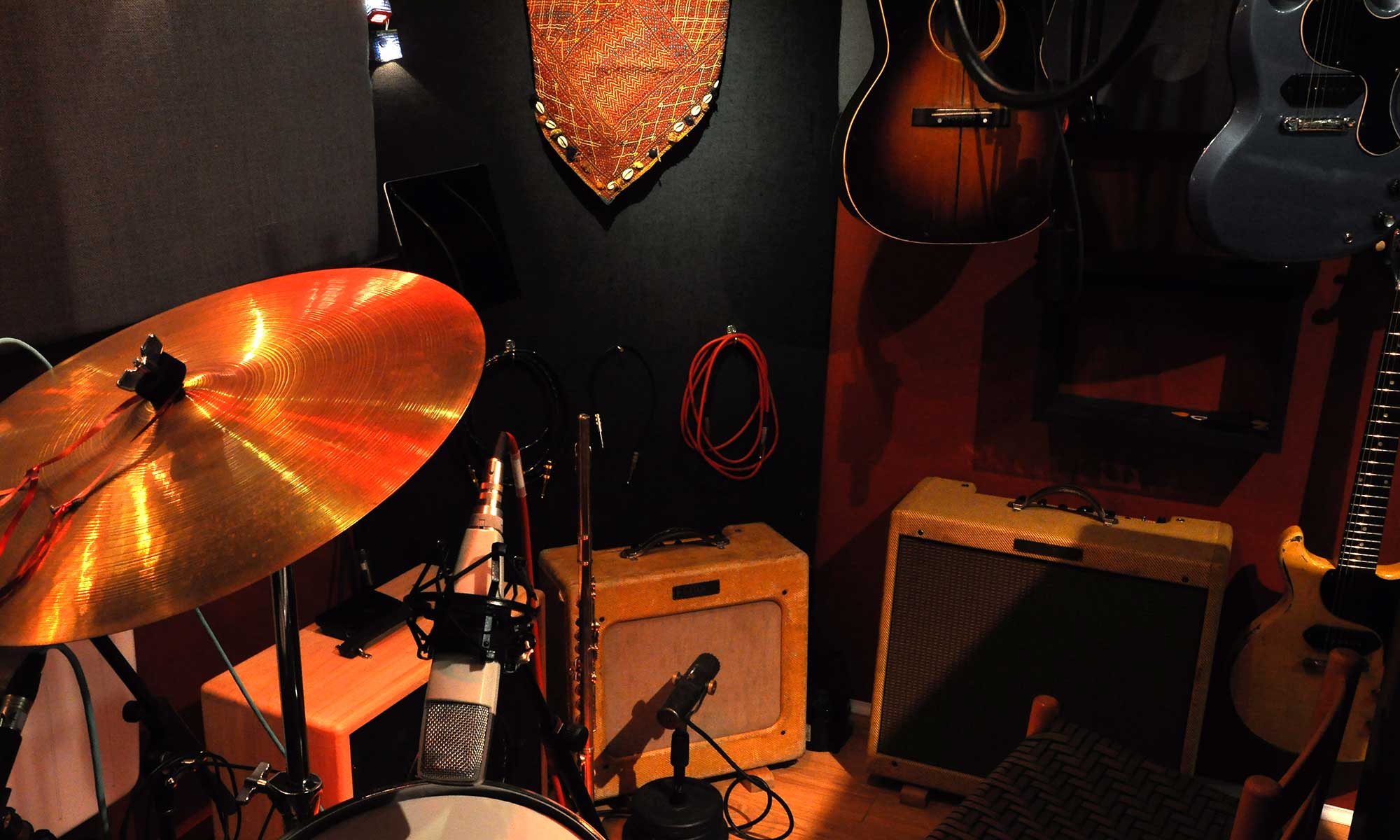 EQUIPMENT
All of my gear is shared between the two studios.  Depending on the project and the schedule, anything in this list is available in either studio.
Recording gear
Computers and interfaces
Pro Tools 2020 Native
Logic Pro X
12-core Mac Pro trashcan
Multiple 4-core i7 Mac Mini Servers as slaves
Metric Halo ULN-8 interface
Metric Halo LIO-8 interface
JCF AD8 A-D
Universal Audio UAD-192 A-D/D-A
Multiple Synology NAS backup servers
Monitors
ATC SCM-20ASL
Amphion One15 w/Amp100
BBC/Rogers LS-5/8
KEF 103.2
Microphones
Neumann U-67 (valve)
Neumann KM-56 (valve)
AKG C-61 (valve)
Neumann KM-84 x 3
Sennheiser MKH-030
AKG 451 x 2 (cardioid and omni capsules)
AKG C-460 x 3 (cardioid and omni capsules)
RCA BK-11 x 2 (ribbon)
RCA BK-5A (ribbon)
Melodium 42B x 4 (ribbon)
Electro-Voice V-2 (ribbon)
Josephson 606 x 2
Beyerdynamic M160 (ribbon)
Sennheiser MD-441
Sennheiser MD-421 x 2
Sennheiser MD-509 x 2
Shure SM-57 x 2
Electro-Voice N/D-868
Outboard
Microphone preamps
BAE/Neve 1272 x 2
Siemens/TAB 676 x 2
Siemens/TAB 276
Gates SA-70 x 5 (valve)
AMPEX 350 (valve)
RTZ RCA clone x 2
John Hardy MCI console x 2
Metric Halo ULN-8
Raindirk console preamps (18)
Dynamics
D.T. Fearn VT-7
Spectra-Sonics 610 x 2
Audio Design F-760 x 2
Drip LA-2A clone
Foote Control Systems P3S
Valley People Dyna-Mite
Federal (US military) compressor
RNC x 2
EQ
Chandler Ltd. Curve Bender
A-Designs HM-2
Instruments
Piano
Mineur – 1898 Steinway upright, Yamaha CP-70 electric piano
ACE – early 1900's Bechstein baby upright
Mandolin family
1917 Gibson A-3 Mandolin
1917 Gibson H-1 Mandola
Acoustic arch-top guitars
1929 Gibson L-5/10 archtop acoustic
Acoustic flat-top guitars
1929 Martin 0-18
1932 Martin 00-21
1932 Gibson L-0
1934 Martin 000-18 (long scale)
1937 Gibson J-35
1937 Gibson Roy Smeck Stage Deluxe
1942 Gibson LG-2
1944 Gibson SJ
1946 Gibson J-45
1948 Gibson SJ
2000 Matisko Cherry Jumbo
2001 MeloBro Resonator
2003 National Trovador resonator 12 string
Hawaiian/slide
1935 Oahu Square neck acoustic flat top Hawaiian
2008 Lazy River Weissenborn copy
Electric guitars
1950 Gibson ES-300N
1955 Gretsch Duo-Jet
1955 Premier small arch top
1959 Gibson ES-330TD
1960 Fender Telecaster
1960 Gibson Les Paul Junior TV
1963 Fender Jazzmaster
1962 Gibson Les Paul SG Junior
1965 Gibson SG Junior
1968 Gretsch Tennessean
1972 Fender Telecaster
1985 Steinberger GMT1A w/Gretsch FilterTrons
2001 Rickenbacker 660-12 12-string
2003 Epiphone Firebird electric mandolin
50's/60's Harmony H-62 archtop electric
50's/60's Kay Jimmy Reed
50's/60's Kay 300
50's/60's Silvertone Turquoise
50's/60's Silvertone 3 pickup
50's/60's Silvertone 1446-L (Chris Isaak)
50's/60's Silvertone (Danelectro) U-1
50's/60's Silvertone (Danelectro) U-2
Other guitars
60's Rogue Electric Sitar
2000 Hammertone Octave 12 string
2000 Danelectro Baritone
Steel guitars
1942 National Lap steel
1947 National Dynamic
1950's National double-8
1952 Fender Pro steel double-8
2000's Williams S-10 pedal steel
Electric bass
1962 Fender Precision bass
1980 Steinberger L2 bass
50's/60's Silvertone (Danelectro) 1444 bass
Amplifiers (all valve)
Fender
1952 Deluxe 5A3
1953 Super 5C4
1959 Pro 5E5-A
1959 Tremolux 5E9-A
1961 Princeton 6G2
1962 Deluxe 6G3
1961 Bandmaster 6G7-A
1964 Bassman 6G6-B
1965 Vibrolux Reverb AA864
1967 Twin Reverb AB763
1968 Bandmaster Reverb AA768
Marshall
1977 JMP 50-watt MK II lead (1987)
Ampeg
Jet J-12
Magnatone
Magnatone 381 (280-A) stereo
Hiwatt
SA-212
Silvertone
1940's tiny combo amp
1482
Sound City
Concord
Alamo
Model A-2
Traynor
Bass Master YBA-1
Vox
1965 AC50
1963 AC30 head and cabinet