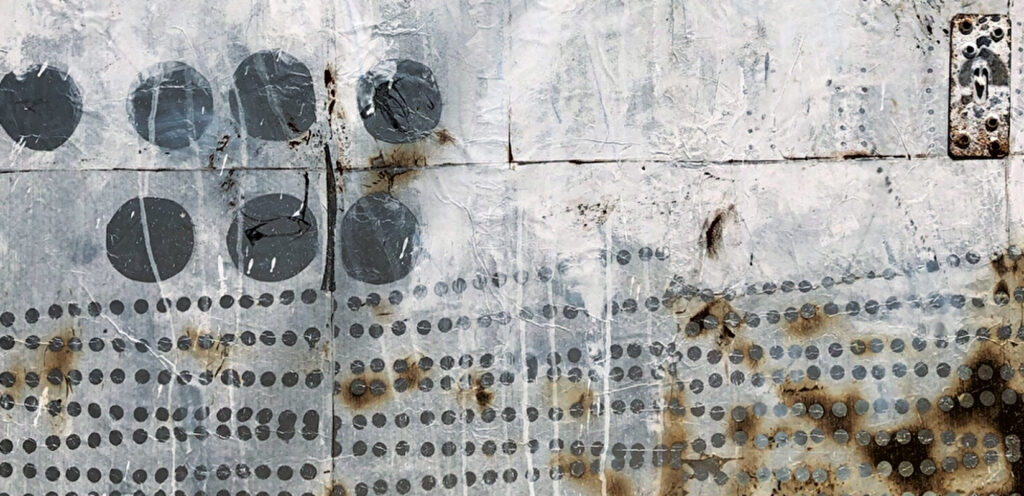 Most of the songs on Unsung started life very inauspiciously, as quick recordings of an idea, or as tests for a recording method, or just having fun in between (or as a break from) more "serious" projects – actual songs with vocals of my own, or one of my friend Brona McVittie's albums.  One day, I revisited one of these sessions, probably to see if I should delete it, and it seemed cool, and worth taking further.  As that process progressed, I began to take the idea of doing an instrumental album more seriously.  It wasn't a new idea, as the first vinyl LP, Hybrid Vigor (soon to be re-released on RVNG), I had done years ago with Ray Herrmann was half instrumental and half vocal.  It's been a long journey with these songs, but I've learned a lot doing them, and had enormous amounts of fun.  I hope you enjoy them.
September 7th: As with many of the tracks on Unsung, this started as an acoustic guitar improvisation.  My goal on this track was to keep things as sparse as possible, with a nod to the atmosphere on later Talk Talk/Mark Hollis albums.  Brona McVittie, my friend and collaborator, used this track as the foundation for the song "Secretly Between the Shadow and the Soul" on her The Man in the Mountain CD.  The title is the only working title to have survived to the end – I started recording it on September 7th.
A Crab of Many Shells: This song shows the convoluted path a tune can take. The rhythmic foundation was simply my tapping on the low E string at the seventh fret of an old Gibson acoustic guitar. Other parts suggested themselves, like the high-strung guitar that opens the track. There was a string part that didn't survive, except in the distortion that leads into the groove. The result is what you hear.
The Light There: This is a re-re-invention of a song that I liked, but was never satisfied with.  A groove presented itself, through the use of a crazy echo device (see Recording Notes) that served to anchor the piece.  You can hear fragments of a steel guitar part floating in and out.  The title comes from the magical light in the Quercy Blanc, a hidden part of southwest France, where we had a house, and I had a studio, for many years.  We sold the house last autumn and it and the studio are now history, but it made a huge impact on my life.
Early Dark (Springtime Remix):  After the wonderful reception Early Dark received in early 2020, Brona suggested a remix. I revisited the tune and found a different version lurking beneath the original.  I like this one as much as the first; it's a reminder of the different perspectives that lie beneath the surface of the familiar.
Momentary: This is the most recent song in the collection; I recorded it last summer long after most of the others were done.  I had the little rhythmic idea on acoustic guitar that quietly opens the tune, but once it became a part of something bigger, it morphed into something else, a common process in these songs.  I wanted the sound of a real fiddle on this, and I was lucky enough to find Lauren Conklin from Nashville on the Internet.  We exchanged thoughts and her parts – complete with improvisations – add exactly the right flavor to my ears.
The Window: This started with my effort to play the dumbest guitar part I could… success! One thing led to another, with a piano part and solo (!), drums and steel guitar along the way.
Love Is As Beautiful As Pizza: My favourite title in the bunch, contributed via refrigerator magnets by Jane Rochester, the daughter of friends visiting in France. It grew out of a drum loop I recorded there, which formed the basis for layers of guitar feedback. My ancient Steinway upright piano provides its distinctive sound. The structure revealed itself over time as a warped but optimistic statement, appropriate for these crazy times.
Early Dark: The first single we released early in 2020, which got airplay in a number of unexpected places.  It had its beginnings in the acoustic guitar line that opens the song.  As I worked on it, I created a string arrangement on my computer, but it wasn't very satisfying, so I turned to Richard Curran, who played several string parts on Brona's first two CDs.  Working from my rudimentary sketch, he was able to create the sublime string parts you hear, adding improvisations that turned into important parts of the final song.  The title refers to that time of the year right after the clocks turn back, when we hunker down to wait for spring and the return of light.
Churrito: This song was the result of a trip to the western United States, long the object of fantasy from my childhood. Northern New Mexico and Arizona, and southwestern Colorado and southeastern Utah – roughly, the extended area around the Four Corners – is a magical place. I spent days exploring cliff-dwelling ruins and experiencing the surreal landscape. Being able to see fifty miles changes your thinking. I came across the word "churrito" as a term of endearment, and loved it, already having a taste for churros – long, deep-fried doughnut sticks coated with powdered sugar – whenever and wherever I could find them.
Nevertheless: This has some of my favourite sonic moments on the album. I really like the drum part. It's decidedly the most electric guitar-intensive cut on the album; man does not live by acoustic guitar alone.
All Other Routes: This is the sole steel-guitar-only track on the album, the result of about twenty minutes of "where did that come from?" one night in Devon. I like the groove. The title comes from the signs you see in towns in France for the road to take to get out of town: "Toutes Directions".
Translucent: This is, I think, the first track on the album that I started working on in earnest.  It morphs through several different atmospheres, and is a bit of a guitar fiesta toward the end.  The title comes from a series of sculptures my friend Tom Cowgill made from translucent resin.
It's Like This/It's Like That: I had thought that Unsung was finished over a year ago. However, when I put all the tracks together, I only had about 33 minutes of music, not enough for a self-respecting release. So, I dug around in my sessions to see what I might have missed, and found an electric guitar improvisation I had done one night in France, on an amplifier that literally blew up toward the end. It had some interesting little melodies, so I started building to see where it would take me, looping a few parts and throwing them together. I turned to Richard Curran again, who provided the wonderful string parts, again contributing improvisations that became integral parts of the song. It's a long song – but I like where it starts and where it ends, and where it goes along the way.
These songs cover a lot of ground, but share the common thread of discovery, exploration and improvisation. My inspiration comes from the different places I've lived, as well as the past or the present; growing up in Kentucky meant jazz and folk at home, country music and the golden era of soul music in the air and on the airwaves. As with all my music, disparate influences come together to make something possibly… new.